Happy Halloween 2013
Thursday, October 31st, 2013
This will be our Fourth time we have been able to celebrate Halloween with our players and staff here at Core-Exiles. We have come a long way since the early days and the game is now vast. Full of professions, careers and content.
We have players with us who are level 100+ who are still finding new things they didn't know existed. Plus with us constantly adding and tweaking CE is an ever evolving game.
But enough of that, what can CE do for YOU today? – Lets see…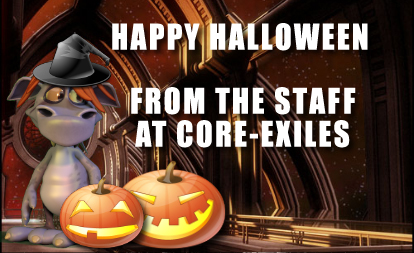 If you reply to this post giving us your Captain Name and what you like best about Core-Exiles I'll hand out a pack of Halloween goodies.
10 SNARG Treats
10 Halloween O2 Cannisters
15 Part Mech Pack
500 Fuel Ticket
3 X Festive Store Items
Have a Happy Halloween!